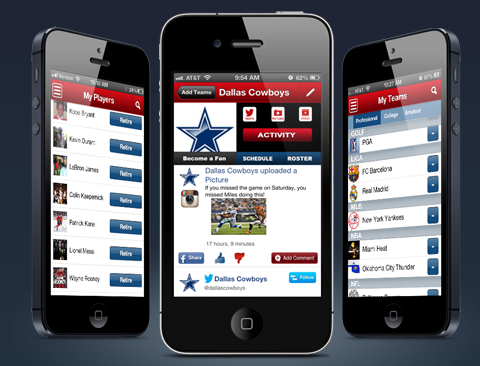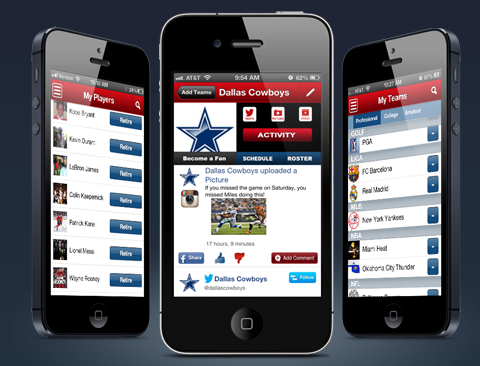 While creating a new breakthrough social network has proved difficult, the battle for shaping the first breakthrough aggregator of social network feeds – the gateway to our online lives – is still ongoing. So is the battle for becoming the big aggregator of others' online lives, such as celebrities, musicians and sports stars – some extremely reliant on their social media buzz – and that is where the Roslyn, New York-based Rouse Social is trying to break into the market.
The app, which launched last summer and so far has racked up 45,000 users, gathers, social media, news stories and events in a real-time feed, with individual artist pages featuring bios and some access to songs. It also aggregates all social buzz around big concerts and festivals through hashtags, and has a 'Get Discovered' section where aspiring artists and bands can submit songs for Rouse users to access.
"It's the next evolution of social media," Siegelman said. "There's no need to app-hop anymore."
The sports version, Sport Street, launched this month, conveniently right in time for the NFL playoffs. Like Rouse, it aims to be more inclusive than its predecessors by including not only the posts by athletes or teams, but also to draw content from relevant beat writers and team reporters.
While promising to kill the need to hop between half a dozen or so social media platforms to stay on top of what your favorite artists or sports figures are doing, Rouse, somewhat ironically, started out as just that – another social network.
Created for avid sports fans, the site's aggregation all social feeds from teams and players quickly emerged as its most popular feature, leading the co-founders Daniel Smith and Max Siegelman to more or less drop the network aspect and focus on the aggregation. Possibly driven by many sports' seasonality, the duo chose to break into the more continuous social media scene of artists and bands.
Behind the app are Smith, who brings experience from SMS advertising network 4Info and previously designed a mobile app for Paris Hilton, and Siegelman, a Roslyn native who was the goalie for State University of New York-Oneonta's soccer team.
The duo has so far received $1.5 million in funding.
Read more : Music Social Media Aggregator Rouse Enters Sports Scene To Kill App-Hopping