Following tests of Twitter-style Trending Topics on the web and mobile in August, Facebook today officially launches a redesigned "Trending" section on its web homepage's sidebar in the US, UK, Canada, India and Australia. The richer design shows personalized lists of the most mentioned words and phrases of the moment with short explanations of why each is blowing up. A click-through leads to a Page of mentions by friends, Pages, and public posts by anyone who lets people "Follow" them.
If Facebook users find the Trending section atop the right sidebar of their homepage useful, it could encourage public sharing, drive return visits, and most importantly — make Facebook better known as a news source for current events. The social network has been in a heated battle with Twitter for that distinction over the past few years.
"Trending" will roll out to all users in the specified countries over the next few weeks, and Facebook continues to test a mobile version.
Comparing Facebook And Twitter's Take On Trends
The explanations make Facebook's "Trending" section a bit busier than Twitter's simple list, but could also make it more immediately accessible. Sometimes it's tough to tell what a Twitter Trending Topic means or why its popular, such as today's "#SuperDraft", which refers to the Major League Soccer player draft. That leads to clumsy digging through the hashtag's tweets, or a web search for the term.
Facebook's version of Trending doesn't just list "24″, it explains that "Fox Sets May 5 Premiere for '24: Live Another Day'". While you might know Cristiano Ronaldo is a famous soccer player, if he trends on Facebook, it'll tell you why, such as "Cristiano Ronaldo wins Fifa Ballon d'Or after stellar year at Real Madrid".
Facebook tells me "The description next to the topic is actually a headline that provides context around the topic and what is causing it to trend. We have rules in
place that work to select concise, accurate, informative headlines."
Facebook is also taking advantage of its wealth of structured data about what people Like and who they're close to so it can inform its Trends. Facebook tells me "Topics are personalized based on things you're interested in and what is trending across Facebook overall."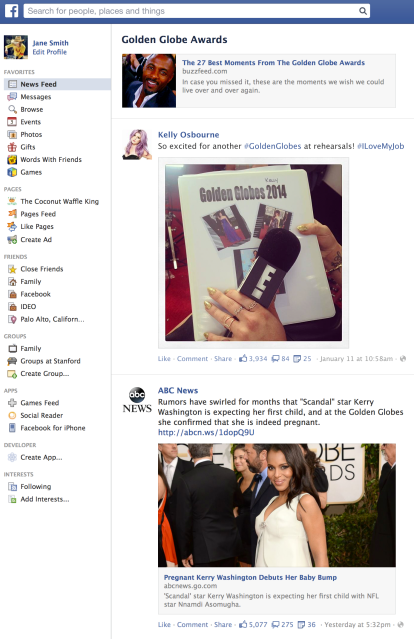 Once you click though, though, Facebook's Trending pages (seen above) look a lot more basic than Twitter's. Facebook shows a feed of links and posts by Pages, celebrities, and public updates from users who have turned on the "Follow" feature to let non-friends read their public posts. But they all look a bit the same. Twitter's Trending pages have more style, intelligently highlighting compiled sets of photos and people you should follow as well as posts mentioning the topic.
And since Twitter has been long-known as a place for current, and since most content on Twitter is public and therefore eligible, Twitter's Trending Topics pages may be deeper and move faster alongside breaking news.
Overall, Facebook's Trends seem a bit more immediately helpful and personally relevant, but Twitter's pages will likely feature richer content.
Stoking The Public Conversation
…And that's what Facebook wants to change. Mark Zuckerberg has been tearing pages straight out of Twitter's playbook over the past year with the launch of hashtags, verified profiles, and embeddable posts. It's also testing Twitter-style reverse chronological display of News Feed posts, and is giving marketers and partners more access to its firehose. Plus it recently acquired public sports data filter SportStream.
All these efforts are designed to make Facebook a place people come to discuss what's happening in the world right now — not just share what they did yesterday with friends. Facebook has seen Twitter gobble up enormous amounts of engagement during TV premieres, award shows, sport matches, and world news events. It wants more of that discussion happening within its where it can analyze the data to improve its feed and show ads.
In an interview at Stanford on Tuesday, Zuckerberg said one of Facebook's big goals after reaching one billion users is creating a unified model of understanding the world that's powered by artificial intelligence. That effort can only reach its full potential if it knows what the world is thinking about the biggest events of the day. "Trending" is both one of the first by-products of this quest, and a way to lure the public discussion into its walled garden.

Read more : Facebook Launches Trending Topics On Web With Descriptions Of Why Each Is Popular