Just a day after the launch of Chrome 32 into the stable release channel, Google today launched the first beta of Chrome 33 for desktop and Android.
This release mostly features updates that will be interesting to developers, including support for Custom Elements, which allows developers to define their own HTML elements. It's a part of the Web Components specs the Chrome team has long been very interested in.
Using Custom Elements, developers can define new HTML elements, extend existing elements and bundle together custom functionality into a single tag. As Google notes, this technology allows developers to "architect their apps in much cleaner ways. Here is a demo app that shows web components in action. It's also worth noting that Mozilla will also support Web Components.

The other main new feature in this update is support for the Web Speech API, which allows developers to add speech recognition and synthesis to their sites. Google added recognition to the Chrome last year and today it adds built-in speech synthesis, too. Using this API, developers can get a list of supported voices from a given machine and then use the synthesis engine to have a web app speak to its users. Besides Chrome 33, Safari on iOS 7 also offers partial support for this feature.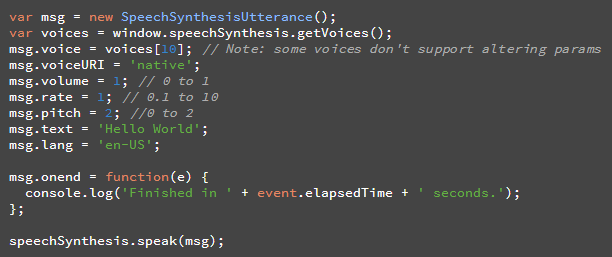 Here is a brief rundown of other changes:

Read more : Chrome 33 Beta Introduces Custom Elements And Support For Speech Synthesis API